Mortgage Rates
Time for a Vacation? | Second Home Mortgage Rates
Mortgage applications for second homes were up 84% in 2020. Wow. It's safe to say we all want a vacation! Couple an entire year of staying in with continuing record-low second home mortgage rates and you have the perfect conditions for a vacation homes market. But buyers are going to have to move fast this year because, beginning June 1, 2021, Fannie Mae is placing a cap on how many second home mortgages they will purchase. 
High Tides  
The purchase of a cottage in Door County doesn't exactly line up with Fannie and Freddie's mission of making homeownership affordable. Understandable. Therefore, there will be a 7% cap on second home mortgage applications. Freddie Mac has already implemented the cap and, as mentioned above, Fannie Mae will implement the cap June 1st. But what does that mean for buyers? We can expect interest rates (currently in the 3's) to rise over the summer. So, let's start making offers on that modified A-frame on Lake Geneva. However, keep in mind that a rise in second home mortgage rates from the low 3's is still, historically, really low. 
Lakeside, Beachfront   
Whether you're looking for a condo in Clearwater or a cabin in Michigan, we can help.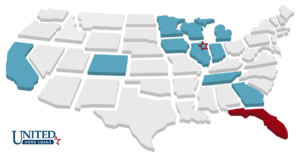 Smooth Sailing  
We cannot stress enough the importance of speaking with a mortgage banker early in the process of buying a vacation home. There are many nuances to second home mortgages and just as many ways a mortgage banker can solve for them. Certain requirements, such as credit score and verification of employment, are very similar to qualifying for a primary residence. But when it comes to the down payment, current mortgage payment, and how those things factor into your qualifying debt-to-income ratio, you're going to want to discuss with a real-live mortgage banker. Together, we can make the dream of owning a vacation home a walk along the beach.