Mortgage Rates
How to Shop for Mortgage Rates
Rates are still crazy low! But how's a buyer to know which one is the lowest one? We are listing everything you need to know about how to shop for mortgage rates. Because let's face it, all the disclaimers and asterisks you run into while navigating the online mortgage rates shopping experience can leave you asking, "Am I getting the best deal?" 
How to Read Disclosures
We cannot stress enough how important it is for buyers to ask, "What are the assumptions?" Anytime you see rates, you should also be able to find the purchase price, LTV, credit score, and number of points the rate is based on. While UHL places assumptions a single scroll down on the Today's Rates page, most lenders will require you to click on "disclaimers" or a drop-down button. 
As you can see in the comparison below, the online lender's rate includes discount points. A discount point is a percentage of the loan amount, due at closing, to lower the interest rate. So, at first glance it looks like these two lenders are offering the same rate. In reality, the online lender requires you to pay an additional $2,470 upfront in order to recieve the same rate as UHL.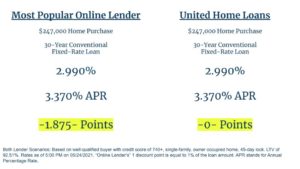 We based the comparison above on the competitor's scenario because a custom scenario required an SSN. Unfortunately, that is the norm for many lenders, which makes it pretty hard to get a true comparison. That is why UHL developed a true Rate & Payment Quote. No SSN required. Just an honest quote. 
What Affects the Rate?
Whether you're buying a condo vs. single-family home or putting 10% or 5% down, may affect the rate. Here are the things you want to make note of as you read rate assumptions: 
Points

. This writer has tested enough lender sites to say with conviction that, if points

are

included, you are going to have to click-and-dig to find them. If there are

no

points, it usually says so front and center. Again, whenever points are included, you'll pay a percentage of the loan amount (typically 1%) to recieve the quoted rate. 

Credit score

. Typically, rates assume a credit score of 740 for a conforming loan and 760 for a Jumbo Loan. If you know your credit score is lower than this but higher than 680, expect a slightly higher rate. If your credit score is lower than 680, expect a decently higher rate. 

Down Payment.

You will often find 20-25% down to be the basis of the rate. The problem is, more people than not put less than 20% down. Which is why obtaining a true rate quote- one that allows the user to input their down payment- is imperative. By the way…  UHL's

Rate & Payment quote

does that. 

Housing Type. Condo loans have slightly higher interest rates than single-family home loans. Almost every lender quotes rates based on the purchase of a single-family home.
Loan Size. The maximum conforming loan limit is $510,400. Larger loan sizes belong to the Jumbo Loan sector and will have higher interest rates. Similarly, "small loans" (typically less than $150k) will also have a slightly higher rate.
Shop Around – Your Credit Score will Allow It.
Did you know buyers have a 45-day window during which all credit checks from mortgage lenders are recorded as a single inquiry? The moral of the story is: feel free to shop around! As mentioned above, many lenders are going to require that you hand over your SSN before producing the rate for your specific scenario. Just because the first lender issued you a pre-approval, doesn't mean you can't continue collecting pre-approvals from others.  
United Home Loans has developed what we think is the absolute easiest way to obtain a quote. The best way to shop for rates, if you will. So, if you haven't tried it out by now… you should. Right here. 
 "Online Lender's" full disclosures here.